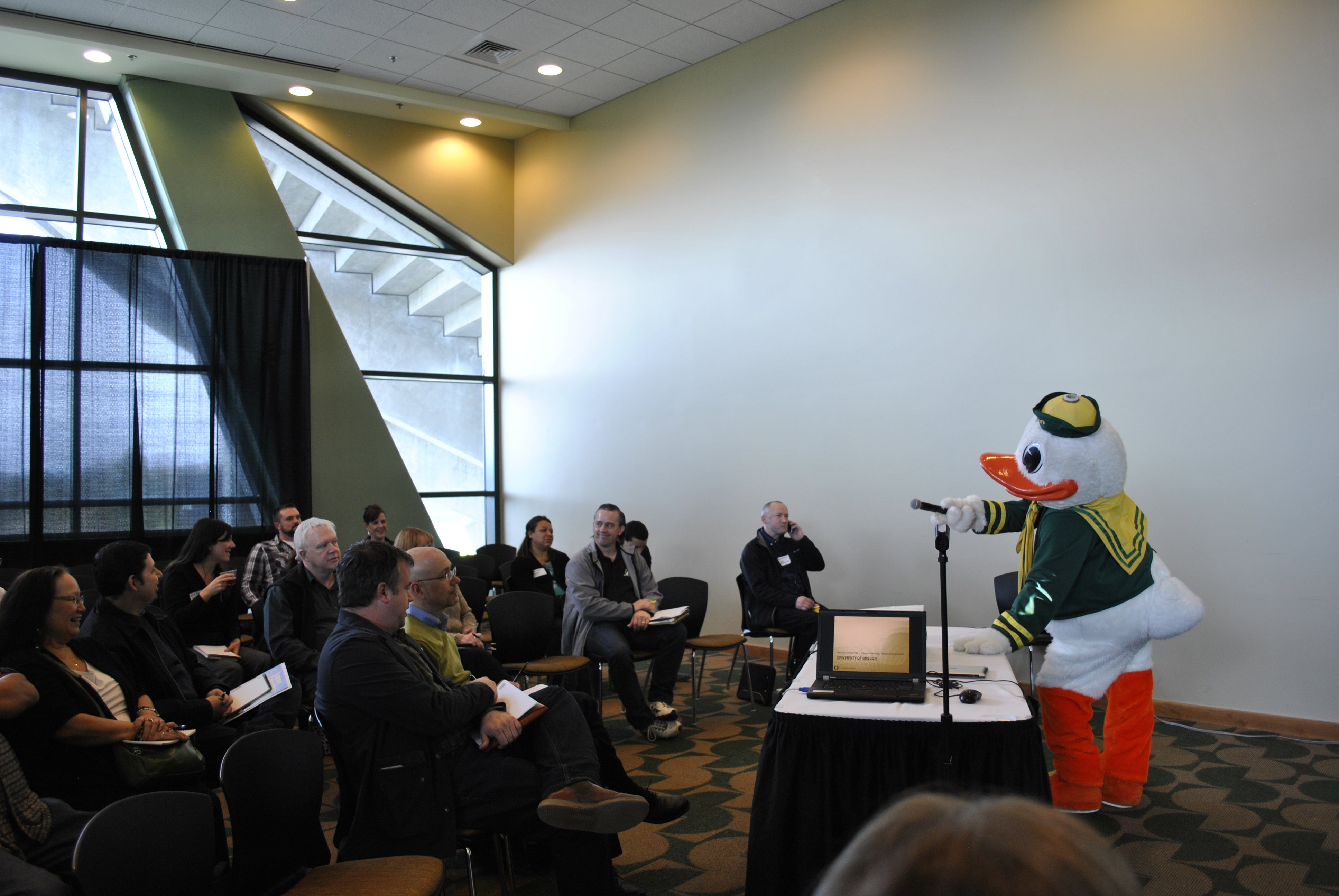 2020 UO vendor showcase
&
Travel Fair
Join us as an exhibitor at the UO Campus's largest business and travel trade show!
Doing business with the University of Oregon – it can be challenging to identify the best way to connect with buyers on campus. Exhibiting is a powerful and cost-effective way to do just that. Any business, be it small, medium or large that provides or can provide products or services to the University of Oregon will benefit from exhibiting.  
At the Vendor Showcase, you can:
Gain exposure for your business to UO campus buyers
Highlight new brands
Develop leads for selling your products and services on campus
Make new contacts by networking with other business professionals
Reconnect with current campus customers and clients
Gain new business from the potential 1,000 attendees
Seek out potential alliances and referral sources
Discounts are given for Historically Underutilized Businesses (HUB).
Historically Underutilized Businesses (HUB) can be certified in the state of Oregon through the COBID office. There are 4 different certifications – Emerging Small Business (ESB), Minority/Women Business Enterprise (M/WBE), Service Disabled Veteran (SDV) and Disadvantaged Business Enterprises (DBE and ACDBE). If you qualify but have not completed the registration process for one or more of these certifications, please work with COBID to complete the process prior to registration to receive the discounted price.
Priority will be given to HUB and Duck Depot vendors.
When: February 12th, 2020
Set up time: 8:00 am
Doors open: 9:30 am until 2:00 pm
Tear down time until 3:30 pm
Registration is now closed!!
Registration Price:
HUB Certified: $250
Standard: $400
Sponsorship opportunities are full!
Please contact Shari Powell at shari@uoregon.edu for additional information!
Vendors will be provided with a booth (design still to be determined), 6' draped table and two chairs. One parking permit will be issued per table. Marketing will be done on campus to campus buyers about what vendors will be attending. Tables will be assigned prior to the event. Cancellation 30 days or less before the event will not be eligible for a refund. We cannot guarantee power outlets at the tables but will try our best to accommodate special requests.  Parking on campus can be challenging. Permits will give you permission to park in designated areas on campus but do not guarantee a space near the event. Payment is due at the time of registration. As a state agency, employees at the UO cannot receive gifts in excess value of $50 per year.  Please ensure that any giveaways are under these values.